What is the Height of a Ballet Barre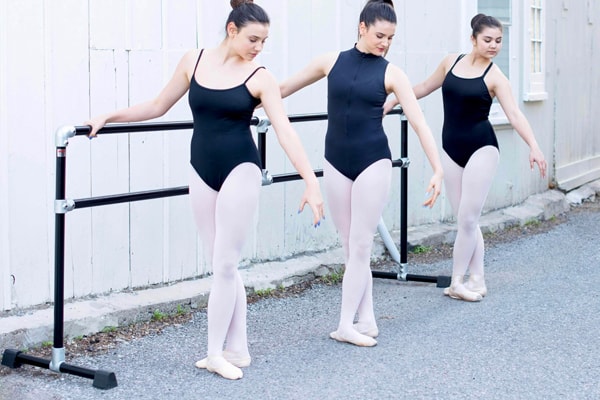 Height of a Ballet Barre
The Ballet Barre is just like an exercise handrail. Its function is to provide support to people who are doing exercises that make standing still and balancing a little difficult. For example ballet dancers use the ballet barre to practice when learning to stand on the toes. Therefore a barre is used to offer support. However, before purchasing a ballet barre, you need to consider what height the barre needs to be.
Ballet Barre Height Varies From Person to Person:
A Ballet barre is used in two ways. One is for personal use and the other one is for public use, such as in a dance academy or studio. The personal ballet barre will be at a height related to the person exclusively using it whilst the height of a ballet barre used by numerous people at a time should be of average height.  This is especially true, when an academy offers training to both children and adults.
Also read: History of Ballet Dance – When Ballet Was Created

Join our dance studio for the best

 

ballet classes in Dubai
Personal Ballet Barre Height:
Below are a number of tips to consider when you are choosing the height of your personal ballet barre:
Check that the ballet barre height is parallel to the height of your elbow.
Check that the ballet barre height is parallel to your arms (make sure the shoulders aren't raised).
Put your hands in the second position and check that the height of the ballet barre is parallel to them.
The perfect ballet barre height lies between your elbows when the arm is in resting position. So for a personal ballet barre this is recommended.
Also read: Are Ballet Classes for Toddlers the Right Choice?
Public Ballet Barre Height:
Recommendations for the height of a public ballet barre vary around the world.
In America, 90 cm and 1.2 meter barres are recommended by studios
In Scotland, dance studios recommend a barre height of 1.07 meters to 1.17 meters
Francis Dance Academies recommends a height of 1.5 meters
Also read: Interesting facts about ballet dancers
What Ballet Barre Should I Buy According to My Height?
With the recommendations being in conflict I would recommend dancers purchase a ballet barre with adjustable heights. An adjustable barre is convenient because everyone in a group, either in a studio or a home, can use it. Such adjustable barres are usually used for children so that the height can be adjusted as they grow.
By keeping these points in mind, you will be able to find a ballet barre with perfect height.
Learn ballet dance at Melodica, the best school for dance classes in Dubai to learn ballet dance.  We have professional teachers who teach ballet classes for adults and kids. Visit melodica.ae
Also read: How to find Ballet School for Kids



If you're searching for the best

 music classes in Dubai 

and

 dance classes in Dubai,

 we invite you to join us at our

 music school & dance studio. 

We offer excellent instruction in both areas.