Afshin
Since the covid-19 pandemic, many adults are looking for ways to calm their nerves and keep themselves focused, and stay positive. Playing the guitar can be challenging but it's immensely gratifying. Although learning to play your first song will most certainly impress all your friends and family, taking guitar lessons and playing consistently is first and foremost great for your mental health.
Boosts Creativity
As an adult, finding outlets for creativity in life can be challenging, but learning to play the guitar can give you a medium to do just that. Whether your goal is to find guitar lessons near me so you can write your own original songs, or master your favorite tune, playing music allows you to open a new part of your brain. When we think creatively not only do we find solutions easier, we feel more inspired in every aspect of our lives.
Improves Your Brain's Functions
There have been brain scan studies that show learning to play the guitar can improve the long-range connections between different regions of the brain. Studies have also shown that playing an instrument like a guitar can boost the brain's gray matter, which is what allows someone to control their movement, emotions, and memory. This means guitar learning can actually protect us from mental decline as we age, which allows us to enjoy our lives for longer.
Enhances Self-Confidence
There's nothing quite as cool as someone who plays guitar, and when you take on the challenge of learning this incredible instrument, you feel more self-assured. Beyond this, staying consistent with a musical instrument practice can be a source of pride, making you feel good about yourself which further enhances your confidence.
It's A Form Of Therapy
Guitar classes give you the necessary skills to play at home. Music therapy has now been proven to manage stress and improve memory, communication, and motor skills. Playing the guitar allows our brains to take a break from our worries because it requires focus and concentration on the instrument. When you finish practicing your guitar scale or playing a song by your favorite band, you just may find that life's challenges and struggles don't seem so great and that you're better equipped to deal with them.
For the best Guitar lessons in Dubai, look to Melodica. They have some of the top-rated Guitar teachers in Dubai, Abu Dhabi, Sharjah, and Al Ain. Not only will the teacher work to increase your skill in the instrument, but they will also support you through your own specific challenges, helping you become proficient with every lesson you take. They have creative methods to help students of any age learn the basics as well as teachers who can help even the most advanced students grow into guitar masters.
Taking care of our mental health has never been important, and there's no better way to strengthen your brain's function, lessen your life's stressors, and see your creativity blossom than through learning to play the guitar.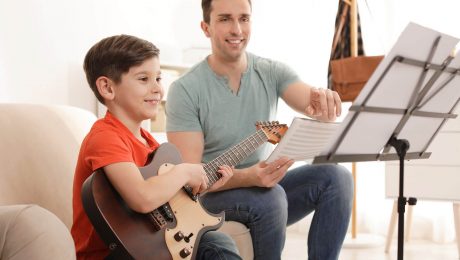 Whether you're looking for a guitar teacher for yourself or your child, there are some things that you should consider. A great guitar teacher can significantly impact our mastery of the instrument and our lives overall. In this article, we'll guide you to find the best guitar teacher for you so that you can experience all the benefits of guitar lessons and jam out on the world's most remarkable instrument.
Consider Your Musical Taste
We all have preferences in music and musicians, and almost everyone has a favorite band. To find a great guitar teacher, you first have to ask yourself what type of music you'd love to play. This allows us to ask the right questions when talking with a teacher and guide us to what kind of lessons we want to take, be it acoustic or electric.
Skills: Teaching Vs. Playing
We certainly want our guitar teachers to be proficient in playing the instrument, but it isn't what's most important. Ultimately, you want to learn the guitar, not watch someone play it themselves. This is why it is far more important to choose someone who's a great teacher rather than a great guitar player. When someone is passionate about teaching, they are more likely to have creative methods to help them progress faster.
Ask About Experience
When looking for the best guitar teacher for you or your child, you should ask questions about their experience. Those with experience teaching children will bring a different skill set than those who focus on working with beginner adults.
Find Someone You Like
The most excellent guitar teacher in history can't help teach you if the two of you don't get along. Finding a personality that works with yours or your child is vital to the guitar learning process, as it's how you relate to one another rather than is going to make or break the experience. Set up a phone "interview" or book a demo lesson so that you can see if it's going to be a good relationship and fun experience.
Things To Look Out For:
Don't go with the first place that offers "Guitar classes near me"! Just because someone is close by doesn't mean they're the best. Be wary of the teachers that don't tell you their rates, along with those who claim to teach anyone any style of guitar. Generally, these people aren't confident in their skillset and are trying to "sell" you into taking the lessons. No one is amazing, so if they're saying they are, it's a sign that you may need to look elsewhere.
From acoustic to classic, electric guitar, and more, there are no better Guitar lessons in Dubai, Abu Dhabi, Al Ain, and Sharjah than Melodica. Melodica offers guitar classes and lessons that are structured to meet the needs of each individual student. They have a plethora of teachers so that you can find the one that suits your interest, ability level, and style best.