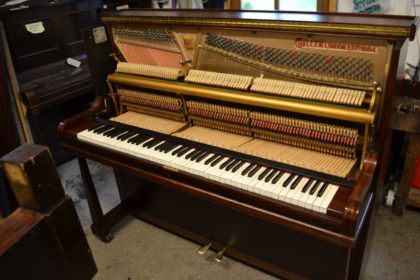 One of the best Piano restorer Ajay Mistry says that a person who wants to rebuild a piano should be a physicist, a mathematician, carpenter, and even a painter. For the restoration process of a piano, you have to keep in mind the string length and the precision for the right note. Besides, to know about the sound energy is also very important and should have the know-how of painting the iron frame and to work with its body made of wood.
He used to watch his father while rebuilding the pianos and thus he got interested in the whole process. After the completion of his graduation, Mistry worked with his father to rebuild the pianos while after 6 years, he took a proper training in Germany's famous manufacturers Grotrian.
Mistry says that his grandfather used to rebuild pianos in 1905; while he was a chief technician at Srose & Co. Mistry today, in his workshop with six employees, working to rebuild pianos. Mistry says that the heart of any piano is its board that amplifies the sound. He added that it takes one to two months when we rebuild a piano that has been brought by the old bodies or scrap dealers.
Stay Tuned with us for more news.
Melodica.ae is the top ranked Music and Dance school in Dubai. Here you will learn how to play instruments like Piano, Guitar, Violin, Drum, Flute, Saxophone or singing.