Ballet is a graceful and elegant dance form that requires physical and mental preparation. For ballet teachers, it is essential to have well-prepared and organized ballet classes to ensure the safety and success of your students. This article provides a comprehensive checklist to help ballet teachers get ready before starting class.
Understand your road map and yearly objectives.
Your list of yearly goals is simply everything you want your students to learn during the school year. (Adjust accordingly if you're teaching a shorter session, such as a semester or 10-week class.) These objectives should be derived from your studio's syllabus. Ask your studio director if you still need to see the syllabus for your class! Almost every dance studio has one.
Include some "soft skills" in your yearly goals in addition to the "hard skills" on the syllabus, such as steps and techniques. These could include memorizing choreography, improving performance quality, expanding vocabulary, and anything else to help your students become better dancers.
Read Also, Are you a Ballet Dancer? Tips to Prepare for an Audition
Preparation of the Dance Studio
Check equipment and supplies: Before class, ensure that all equipment and supplies, such as ballet barres, mirrors, and music systems, are in good working condition. In addition, ensure enough ballet mats, props, and other materials for the students.
Ensure proper lighting and temperature: Ballet classes require proper lighting to ensure students can see themselves in the mirrors and correctly perform movements. The temperature in the dance studio should be comfortable for the students to prevent overheating or hypothermia.
Clean and arrange the dance floor: Sweep and mop it to ensure it is clean and debris-free. Arrange the floor to provide enough space for movements, such as leaps, turns, and jumps, while ensuring safety.
Ensure adequate movement space and proper ventilation: Ballet movements require ample space, and the dance studio should be large enough to accommodate them. Proper ventilation is also important to ensure students are not affected by unpleasant odors or fumes.
Planning the Class
Review the syllabus and lesson plans: Before class, the Ballet teachers should review the syllabus and lesson plans to ensure that the class is on track and you are prepared to teach.
Choose appropriate music and choreography: Choose music and choreography suitable for the student's level and the class's goals. The music should be appropriate in tempo and style, and the choreography should be challenging but achievable for the students.
Decide on the warm-up and cool-down exercises: A warm-up is essential to prepare the students' bodies for the movements of the class. Choose exercises that target the areas used in ballet, such as the legs, feet, and core. A cool-down is equally important to help the students recover from the physical demands of the ballet class.
Plan the class to ensure adequate progression and challenge for all levels: Plan the class to provide progression and challenge for all students. Consider the physical and mental abilities of the students and provide appropriate modifications and challenges to keep them engaged and motivated.
Physical Preparation
Warm up before class to prevent injury: Ballet teachers must warm up before ballet classes and make sure their students will also follow the same. Do exercises to loosen up your muscles, such as stretching, pliés, and tendus. Wear appropriate dance attire and shoes: Wear appropriate dance attire and shoes that allow for ease of movement and prevent injury. Make sure that the attire is comfortable and allows for a full range of motion.
Proper posture and alignment: Proper posture and alignment are crucial in ballet. Ensure that you demonstrate and reinforce proper posture and alignment throughout the class.
Stay hydrated: Staying hydrated is important to maintain physical and mental performance. Drink water before and during class to prevent dehydration.
Preparation of Students
Review class policies and procedures: As a Ballet teacher, you must review class policies and procedures with the students, such as the code of conduct, expectations, and rules.
Take attendance and update student information: Take attendance and update student information, such as emergency contact information, to ensure the safety and well-being of the students.
Examine and Evaluate Your Students: Examine based on your goals and plans on the assumption about how these students would be. You can now actually see them dance. You'll need to make changes based on what you see on the first day. The kids may be far above or below the skill level you anticipated, or you may discover a technical issue that must be resolved before you can cover some of your objectives. Don't tell them they're being evaluated; they don't need the added stress. Take a few notes after class and adjust your yearly goals, roadmap, and lesson plan for the following week accordingly.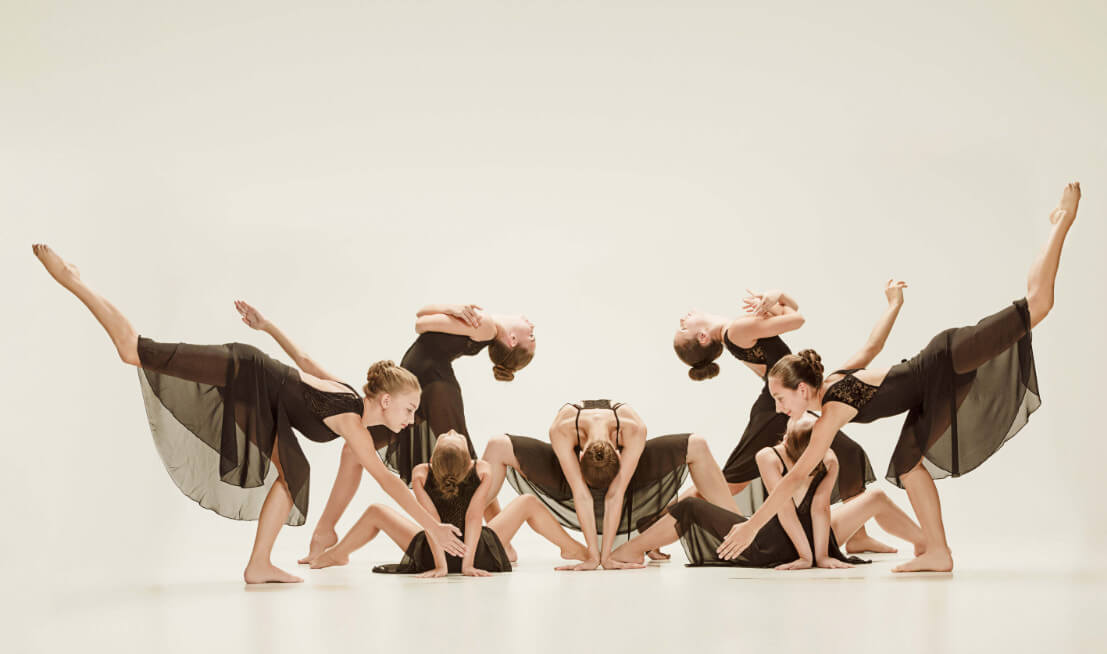 Ballet & Contemporary dance is considered one of the most beautiful ways to express yourself to music, whether classical or modern hip hop steps. However, there are several differences and similarities in dance's world containing cross-overs and borrowed steps.
Various dance centers offer you almost all types of dancing, including ballet dance, based on their years of experience. Naturally, however, you are more likely to have your favorite one to dance to, and you prefer that one over the other. But if you are interested in the major difference between ballet and contemporary dance, then we got you.
In this article, we will talk about the differences between ballet and contemporary dance. Here are some of the things that set both of them apart. Read out the article to find more about it.
Differences between Classical Ballet and Modern Contemporary Dance
Classical ballet and contemporary dance are unique and different in their structures. No matter whether they share the same emitting of emotion, there are still countless differences between them. Ballet includes some graceful movements and focuses on the longest lines possible, along with its adherence to form and technique. On the other hand, contemporary dance offers you a huge amount of freedom.
How is Classical Ballet different from Contemporary dance?
You might think that ballet dances are always very liked by the audience. Here are some factors that ensure that your dance classifies as classical ballet. Let's go through them.
1- Ballet must tell a story
Do you have any idea that Cinderella, Sleeping Beauty, Giselle, Coppelia, and Romeo and Juliet are all famous ballet works? Most of them are very well-known and adored fairy tales that are inculcated into our minds in our childhood. In these fairy tales, a boy and girl are often dealing with a problem that may get resolved in the end. Typically, good prevails over evil.
2- Ballet must have costumes and scenery
It would be amazing to know that classical ballet has always been supported by soft music that perfectly goes with a story, expensive and extravagant costumes, and scenery. Being a female, you must wear pointe shoes and tutus in classical ballet dance.
3- Ballet must have a character dance
Classical ballet must include a folk or a character dance. Some of the most well-known roles for a character dance in ballet may include Don Quixote, Sleeping Beauty, Swan Lake, and Giselle.
What is Contemporary Ballet?
Contemporary ballet is a style of modern dance that links or meshes classical ballet with modern dance. It creates movements that can be more expressive and less rigid in form and technique than classical ballet.
This dance often starts with learning basic classical ballet techniques. After that, you must build up a range of movements and styles along with additional training in modern dance and ballet techniques.
How to Distinguish Contemporary Dance from Ballet Dance?
Here are some key characteristics that may help you distinguish Contemporary dance from earlier forms of ballet.
1- Incorporation of Floor work
It is an element of Contemporary dance that is heavily borrowed from contemporary dancer and choreographer Martha Graham. This element involves ballet dancers having to perform movements on the floor instead of just standing upright.
2- Do not have Ballet Shoes
In this ballet performance, dancers or ballerinas have to perform barefoot instead of wearing pointe shoes. The lack of ballet shoes allows them a comparatively greater range of motion than just adhering to the classical pointe work.
3- More upper body movements
In classical dance, the dancer's spine is rigid, so there is little upper body movement. But not in the case of contemporary dance. In this ballet, you may have to feature a wide range of upper body dance movements that resemble modern dance more closely than classical ballet.
Read out: what is modern ballet & classical ballet?
Why is Contemporary Dance becoming so popular?
It is interesting to know that contemporary ballet was created with a combination of modern dance and classical ballet in the 1980s. However, there are a lot of reasons why the idea of classical ballet is getting so outdated.
Nowadays, women do not want to be portrayed as frail or needing saving anymore. On the contrary, they want to reveal their sheer power and show the world that they can save themselves. So basically, fluidity, freedom, and improvisation are the things that truly define contemporary ballet.
Rather than this, another factor that scores a point for contemporary dance in classical ballet vs. contemporary ballet is the welcoming of the male dancers into the dance world. However, in the past, female dancers caught the center's attention by taking center stage. It is because of their elegant costumes and extravagant leaps. And the only male role was to make them look good.
But now, males also have huge and main roles in contemporary dance. They own a specific place to take center stage, and rightly so. Yet, they can also demonstrate their skills and magnificent dancing performance without being hidden in the shadow of a female dancer, tutu, or scenery.
From all this, you may get the idea that contemporary dance is all about elegance and aesthetics. However, the debate about classical and contemporary ballet may continue for years. Some ballerinas like contemporary, but some dancers still favor classical. It's all about you finding what's right for you.
Summing Up
The above discussed are some of the factors that differentiate classical ballet from contemporary. However, whether you opt for classical ballet or contemporary, you need dedication and consistency to become a proficient dancer. However, if you are looking for a dance school in Abu Dhabi, Dubai, or Sharjah for your ballet classes, visit no other than Melodica Music and Dance Institute. We offer the best ballet classes in the town with the help of trained teachers and professional staff
Monday, 05 September 2022
The big day is finally here. your ballet dance audition! You've been preparing for months (maybe even years), and now it's time to put your ballet classes training to the test. The ballet audition.
We understand how scary it can be to perform in front of a panel of judges and when you are put on the spot. The pressure and the stakes are high and may leave you feeling overwhelmed. However, it doesn't have to be scary. Being scared and nervous is real, but with the right ballet classes and preparation, you will be ready to take on anything that comes your way.
To turn your nervousness into excitement, below are a few ballet dance audition tips to make you feel more confident and help you better prepare for your big day. So, let's get started.
Research the company & ballet role you're auditioning for
When preparing for an audition, it is important to do your research. This means getting to know the company and the role you are vying for.
Knowing the company's history, aesthetic, and what they are looking for in a dancer will help you better understand what they are looking. For example, maybe they are looking for a teacher for their ballet classes or perhaps a ballet dancer for their on-stage programs. In addition, it may give you an insight into how to present yourself and your dancing on the day of your audition.
For example, if a company typically hires ballet dancers with classical training, you should focus on showcasing your classical technique. On the other hand, if a company is known for its contemporary work, you may want to perform a piece that showcases your modern skills.
Know your ballet dance strength and market them
on audition
When prepare, it is important to know your strengths as a ballet dancer and focus on showcasing them.
Every dancer has their own unique set of skills and talents that they bring to the table. It is important to identify these and play up to them while performing. This will show the judges that you are confident in your abilities and a versatile dancer.
To do this, you need to know your "dance market." What type of ballets do you feel most comfortable dancing to? What styles can you execute with ease and grace? Knowing your strengths for a good ballet dance will help you better showcase them during your performance.
The following are a few tips on how to identify your dance market:
Watch ballets that inspire or remind you of your style as a dancer.

Take classes in different styles of ballet so that you can explore new territory.
Watch video clips, or footage of past auditions dancers have done well in, noting what elements made their performance successful.
Warm up your muscles before an audition
One of the best ways to reduce your anxiety and nerves is to warm up your muscles. This will not only help you feel physically better, but it will also help calm your mind.
You can do several exercises to warm up your body, but we have compiled a few of our favorites for you here. So, before you head out to your performance, take some time to warm up your body with these exercises.
The following are easy-to-follow exercises that will help get your blood flowing and prepare your body for what's ahead:
Walking Lunges: Start by standing with feet hip-width apart and arms at the sides. Step forward with one foot and lower into a lunge, bending both knees as close to 90 degrees as possible. Keep front knee behind toes and back heel flat on the ground. Drive through the front heel to return to starting position.
Wall Angels: Stand tall with feet flat against a wall, shoulder blades, and back pressed against the wall. Raise arms overhead, so they are perpendicular to the floor and parallel to each other (think "T" shape). Hold for five seconds, then release down slowly—next, press palms against the wall and slide up overhead.
Arm Circles: Start by standing with feet hip-width apart and arms extended to sides at shoulder height. Make small circles with both arms in one direction for 30 seconds, and then reverse direction and circle arms for another 30 seconds.
Dress appropriately & professionally for the performance
It is important to remember that you are representing the company as well as yourself. This means that you should dress professionally and with great attention to detail.
To make a good impression on the judges, it is essential to dress in a way that shows them you take your audition seriously. Choosing the right outfit can help boost your confidence and prepare you for what's ahead.
The following are a few tips on how to dress appropriately for an audition:
Choose clothing that is comfortable and allows you to move freely.

Select clothing in solid colors rather than busy patterns.

Avoid excessive jewelry or makeup.
Wear hair neatly styled in a bun or ponytail.
Dressing professionally sends the message that you are serious about your dancing and want to be taken seriously by the judges. When you look your best, you feel your best, which will help boost your performance.
Eat healthy food before the audition
It's no secret that eating healthy food is important for your overall health and well-being. But did you know that it can also help improve your performance?
When you eat unhealthy foods, your body cannot function at its best. This can lead to several problems, including decreased energy levels, poor focus, and weakened muscles. All of these can negatively affect your ability to dance at your best.
Conversely, when you eat healthy foods, your body can function optimally. This means you will have more energy and focus better during the performance. Additionally, eating healthy foods will help keep your muscles strong and flexible, giving you an advantage over other dancers.
Conclusion
Auditions can be a nerve-wracking experience, but by following the above-mentioned tips, you can help improve your chances of success. Just remember to stay calm, be prepared, and give it your all — the judges are looking for dancers who are passionate about their craft and dedicated to becoming the best they can be.
Furthermore, look no further than Melodica for the best ballet classes in Dubai as we provide various ballet classes for all levels! We also have a highly-experienced and professional team of teachers to guide you through your dance journey.