Friday, 09 September 2016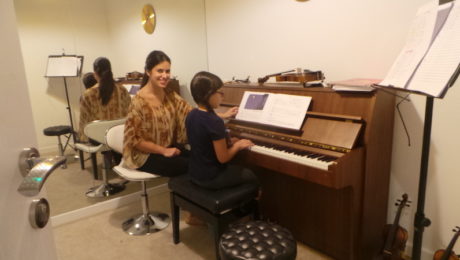 Knowing how to play the piano is one of the most effective ways of showing elegance and making a good impression to people. Aside from it being a badge of sophistication, it can also double as a hobby which anyone who loves music would actually enjoy. However, playing the piano is not as easy as it sounds. You need the help of piano music teachers to fully master the art of playing the instrument. Although you will be needing the help of professional pianists to teach you more often than not, you can still help yourself learn faster by using these simple techniques:
Practicing at least 20 minutes every day
It is cliché, but practice really does makes perfect. Keeping your muscles and brain working on the same thing over and over would establish muscle memory which can prove to be your ally in times when you have to learn new songs while trying to use past lectures to perform it. In order to follow this practice religiously, you need to schedule and allot a particular time of your day for it. You may not be able to reach piano certification levels on your own, but you can sure help your teachers mentor you faster and with better accuracy.
Learn how to calm your mind and concentrate
We think that piano teacher organizations would agree that everyone is more efficient when their minds are at a calm state as the brain absorbs more information when it is not anxious. It may be difficult to achieve, but you must master the way of isolating yourself and ignoring everything else around you as you learn to make it easier for you to take in what you are trying to learn. There are ways of doing this, such as doing yoga or doing breathing exercises before studying.
Get your own piano unit
Most piano units are expensive, which contributes to why such piece of musical contraption is a symbol of class. That said, not everyone is capable of purchasing one. However, as much as possible, get yourself a piano unit because it can help you a lot in practicing. This way, you are not dependent on others and you can use it whenever you want for practicing.
Master the basics before moving to more advanced lessons
As the national guild of piano teachers would suggest, it is best to have yourself fully understood the fundamentals of playing the piano before stepping into a more complex lesson. This way, you have a full grasp of the core learning before being bombarded with new and more complex lessons which can be a handful if not done correctly.
There are many other ways of making yourself better at this activity, only if you focus and ask help from experienced pianists. To know more about piano music teachers and how to learn to play other musical instruments, check out our website and contact us for classes.
Visit Melodica.ae
Our Locations
Friday, 09 September 2016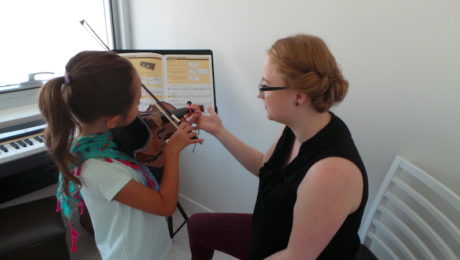 The violin is one of the most graceful forms of music. It expresses style, sophistication, and exclusivity. Why? Because note everyone finds it easy to play the violin. It requires great focus and knowledge on the art of music. That is why people seek help from professionals in learning how to play the violin.
Like most musical instruments, however, learning how to play the violin for beginners should grow from the foundation of basic knowledge. There are things that should be taken note of before going for the actual lessons. These things are very crucial and should be applied throughout the learning process in order to achieve your full potential in playing the violin. Below are the four key points mentioned above:
Getting the right experienced teacher
The reason why you are searching for "How to play the violin for dummies" online is that you don't have any idea how to play the instrument. If you are to pick a mentor that is almost as clueless as you are, you might find it very difficult to master the violin. That said, you need to pick someone who already has experience and have developed his or her own teaching techniques already that would help his or her students learn faster and with more accuracy. A knowledgeable teacher knows how to conduct exercises that would help students improve skills that would be useful during the learning process.
Choose only top-class equipment and materials
To learn how to play the violin, you must also be one with it. This means that it should be a piece of work like you are, because the person playing the instrument is only as good as the instrument he or she is playing. The violin should be a part of your body just as much as your legs and arms. You should always treat it with care and must choose with discernment which violin fits you best. Every string and corner of the violin must be chosen by the player and must stay close to his or her heart. Keep in mind, though, that the style must not compromise quality.
Find the most suitable spot where you can study
Learning how to play the violin can happen anywhere, but only in your safe and comfortable spot can you play with heart. This can happen for private mentoring as enrolling in large classes often happens in a classroom setting. For private lectures, you can ask your teacher to come with you to your most favorite location where you can practice freely and peacefully. One of the best hints you can get for finding this particular spot is that find a place where your heart calms down and you are disconnected from everything else but your violin.
Take care of your hands
So you already have the tools, the place, and the teacher…now all you need is to keep your hands functional. The strings of a violin are very delicate, and a wrong stroke by your hands can change the tune of the song, which is also why you need to take care of your hands.
To know more about piano and musical instrument lessons, click here to contact us. Book you Free Trial Music class in Dubai.
Melodica Music Center Dubai, UAE
Friday, 09 September 2016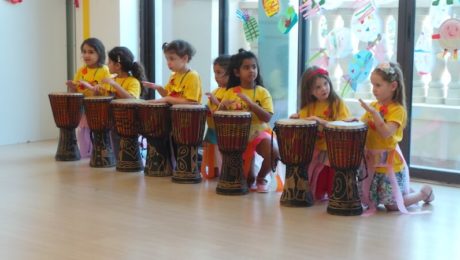 Melodica Music & Dance Institute
We are all born possessing certain gifts and talents, and parents play a vital role in harnessing these gifts. Of course, not all children who love music will become prodigies, and as parents, we shouldn't let this be our goal. Rather, if you have a child who seems to be interested in music, there are simple ways to further stimulate your child's interest. Instilling the love of music in your little one is easier than you think. Here are some helpful suggestions to get you started.
Here's How:
Sing to your child. Yes, even though you believe you can't carry a tune, your child will still think you have a lovely voice. When I became pregnant I read an article about the significance of music to children, there are findings that even a fetus responds to music while still in the mother's womb. So when I was just two months pregnant with my daughter, I sang to hereveryday. I continued to do this even when my daughter was born. Whether you believe the research or not, there's no harm in singing to your child.
Dance with your child. Okay, I know some of you might say you can't dance but neither can I. Honestly, it doesn't matter, your child will enjoy and even be fascinated to see you dance. Put on your favorite music CD and dance with your kid, this way you're introducing her to the joys of music and creating a happy memory at the same time (not to mention burning off calories).
Teach them action songs. Kids love these types of songs; my daughter and I have loads of fun doing this. There are lots of action songs you and your child can learn together. Some examples are"London Bridge is Falling Down," "Ring Around the Rosy" and my absolute favorite,"Skidamarink." There are CD's and tapes of action songs that come with lyrics and instruction booklets. Or you can be creative and make your own actions. Action songs are a great way to teach kids about rhythm and other musical concepts.
Share with them your favorite songs. Both my parents loved to sing and I remember hearing music being played at our home everyday when I was young. As a result, I was exposed to different types of music and various artists at a young age. Exposing your child to your favorite songs will help her understand that there are varying types of music for her to appreciate.
Rent, buy or borrow books, videos and CD's that revolve around the subject of music. After I gave birth to my daughter, I decided to start buying CD's for her and played it as often as I could. I chose CD's that featured great musicians like Mozart and Beethoven as well as famous children's songs. I also borrowed DVD's from a rental store; movies like "The Muppet Show"and "The Sound of Music." There are also good children's TV shows that can help introduce your child to music. This is a wonderful way of teaching her the significance of music in our world.
Join parent-child classes available in your area that introduces the concepts of music in a fun way. There are some great music education programsout there, one of which is called Kindermusik where they incorporate music into the curriculum and has take-home materials to ensure parent involvement.
If appropriate, take her to local concerts. I took my daughter to a major concert when she was around 4 years old and was amused at her wide-eyed look while she watched the artists on stage. Be sure though that if you do take your child to a concert, you'll sit far away from the speakers as the noise will be too much for a kid to handle. Concerts are a great way to introduce your child to performers and musical instruments.
If your child is interested in learning how to play an instrument, do encourage her by enrolling her in music lessons. Make sure you pick a teacher that has a rapport or connects well with your child and one who is specifically trained to teach children.
Keep visiting Melodica.ae. The top-rated music institute in Dubai.